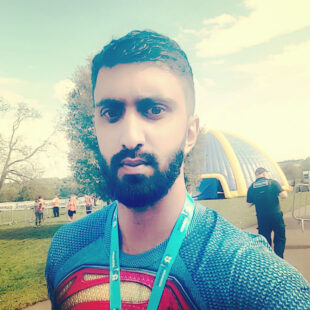 Your background and why you applied for the Fast Stream? 
I am not sure where to begin but will do my best not to make this a novel length masterpiece. I come from a British – Pakistani background with my father being born abroad and my mother belonging to the first generation of British Asians with a dual identity. I have always lived in quite a deprived area of Birmingham which often places high in statistics and league tables for the wrong reasons. Growing up not many in the community had degrees and earning yourself an education would place you outside of the norm.
My personal journey was also not what one would expect, I was never an achiever or even a good student throughout my school and college years. I found it difficult to focus and direct my efforts often channeling my energies into the wrong activities that would always come back to bite me. At the age of 17, I was diagnosed with Dyslexia with some of my scores placing on the lower end of the scale. This completely destroyed my confidence but also made me think of what I could have achieved with adequate support. I had scraped a place into university at the end of college but had no faith in myself and no interest in education so I decided to build a career in retail.
My time in retail was a unique learning curve and taught me how to focus my efforts becoming the top salesperson in several companies and earning several promotions. However I always felt I wanted more from life so after several years I decided to pursue a career in the field of Media and Communications through a HND and Degree. After researching learning techniques I was equipped with the knowledge that I needed to proactively tackle education. I completed my HND with several distinctions and with the highest grades in the year, which earned me direct progression on to the second year of the HND Media and Communications (Public Relations) degree at Birmingham City University. At this point I continued to work full time whilst completing my degree. I had gone from a student who caused disruption to a model student and star employee. I felt unstoppable, earning promotions in my job which promised quite a successful graduate scheme as well as several industry recognised awards and accommodations.
Just when I thought life was beginning to embody the dream many young adults have in regards to their career. I suffered from a brain aneurysm which ruptured and changed my life forever. I had to learn everything again and get my life back on track. As you can imagine the obstacles that I had to overcome were immeasurable and it is still a journey that I am embarked on. The events that I have experienced have become the foundations for my approach to life which is to reach for the stars and see how much I can really achieve. That is why I am writing this as I want everyone who even thinks about reaching for the stars to apply themselves and go for it. Anything is possible Dream it, Believe it, Achieve it.
The application process
The application process is by far the most difficult job application I have ever been involved in. From online tests to video interviews and assessment centres, nothing about the application process was easy, but the sense of achievement every time I had an email or notification telling me that I had been successful and progressed was truly unrivalled and with each stage my confidence improved and the sense of belief in myself grew, validating the fact that I deserved this. My advice is to always approach everything with a clear mind no matter what life throws at you, focus on what you want to achieve and the steps needed to achieve your goals. Make
sure you are rested and do not rush, approach each challenge as you feel ready. Finally give it your all and have no regrets.
Why you chose the Project Delivery (PD) fast stream and are you glad?
The decision to choose the Project Delivery stream was the easiest choice of the entire application and it was my top choice of scheme. Many of my colleagues were not aware of the benefits of PD. However due to my time in the private sector as well as research into emerging professions, I realised project delivery offered huge benefits and it was clear that there would always be projects to be delivered so there would always be work. The thing that attracted me to the Project Delivery profession the most was the fact that no two projects are ever the same. Yes, there are lessons learned and experiences are transferable, but one day it could be an IT project and the next a procurement project; it was that versatility that capture my attention and made me commit to the project profession.
Talk about the welcome day, induction and your first few days in post
The enrollment process has been unrivaled with a welcome day, general induction and a specialist induction. We have been kept up-to- date every step of the way and there has been a team in place to answer all of our questions. The welcome day enabled me to meet a few of my colleagues which made the general induction a little less daunting.
The general induction was mind-blowing. 450 odd Fast Streamers in one location hearing stories from very important Civil Servants who addressed us as peers rather than employees. To hear real and genuine advice from individuals who have had 30 plus years in service and now leading departments illustrates how far you really can go. There was a formal dinner every day to enable us to get to know our colleagues, which in fact was perhaps the most intimidating experience for me as I had never been to a formal dinner before. As silly as it sounds I had no idea which fork to use and had to observe my colleagues but it was part of the learning curve by the second day I was used to the structure and took several useful nuggets away with me that I will hold onto throughout my career as well as making several friends.
For me though the greatest facet of the induction process was the specialist induction being surrounded by fellow Project Delivery specialists, learning job specific information and hearing from professionals within the field on how we could build successful careers for ourselves. There was also a series of team building exercises that taught all of us real and practical lessons. You will never look at a tent pole the same again.
My first few days in the department were truly amazing. I was based in the Field Activity Programme within Defra and specifically with the Animal and Plant Health Agency. At first I had no idea of what to expect, I was welcomed to the department and had a full agenda dictating what I was doing and when. I had a meeting with my activity manager who found out my interests and motivations. Due to my responses by the end of day one, I had a national project of my own with all the support that I needed. I had a proposed date to take my proposals to the project board. A laptop and phone had been ordered for me. I was surrounded by a series of individuals who all had a wealth of knowledge for me to learn from and yet all of them treated me as an equal. By the end of the first week I had attended several important meetings and had been brought up-to- date with the entire programme. My work had been introduced to the team and the offers of support were overwhelming.
Do you feel valued by this scheme compared to the others?
I can honestly say I genuinely do feel valued as part of the scheme. It is not often you can chat to strategic lead in such an open manner. I have all the support I need as well as the autonomy and flexibility to take ownership of my development. I truly would recommend the Fast Stream for all who are interested in a successful career that provides depth as well as versatility. The process is truly open for all with a significant commitment to diversity and inclusion. More than anything, how many careers provide an opportunity to actively change the lives of many and to give back whilst earning with a great work life balance.