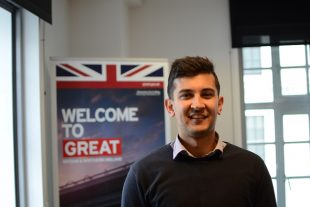 I joined the Fast Stream as a Generalist after a year and a half on another graduate scheme in management consulting, and work with an NGO overseas. Following my first posting at the Department for Work and Pensions (DWP) I'm now in my second posting at the Department for International Trade (DIT). I had previously worked with public sector clients, directly worked in government through the Summer Diversity Internship Programme (SDIP), and knew longer term that I wanted to direct my career towards here. 
I took part in the SDIP in 2014, working at DWP to produce guidance for staff around agile project management methodologies. This was a very realistic experience of the challenges of working to deliver a project within a short time-frame, and gave me a good sense of what to expect in a working environment compared to other internships where my work was less involved. I really appreciated the challenge of working with a range of internal stakeholders, and found this has served me extremely well ever since. The training and support provided to interns alongside the placement was definitely crucial in helping me to navigate the application process and have the confidence to do well during the assessments. 
I found it slightly challenging to juggle the application process for the Fast Stream alongside a full-time job, but with a bit of organisation it can be done! I knew as soon as I'd left the assessment centre that the scenarios we had worked through were exactly the kind of work I wanted to be doing, and thoroughly enjoyed the experience. I also enjoyed meeting people from a wide range of personal and professional backgrounds, and as soon as I received my offer was very excited to start.
My first Fast Stream posting was at DWP working on disability unemployment policy strategy. This was a great opportunity to work on a topical and challenging area for the department, and gave me a good grounding in both policy design and delivery. I also gained solid experience of working with a number of stakeholder groups both internal to the department and in the third sector, which has stood me well for my current role. While in the department I also managed to cover time in a ministerial private office which gave me an incredible insight into their work, as well as how the department as a whole supports them. 
I've recently moved into my current role with the Department for International Trade where I work on the GREAT International Trade campaign in a marketing function. This again is a challenging but exciting area for government, and very rewarding to work in a department that is so crucial to securing the future prospects of the country over the next few years. The fact I'm able to see a different side of government to Whitehall policy is one of the best parts of being a Fast Streamer, and I'm sure I'll be a better civil servant in the long term for it.