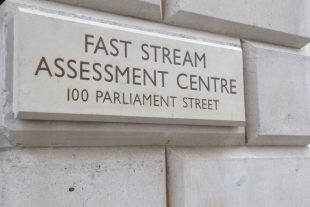 I've been a Civil Servant for over 12 years now and have been lucky enough to have had an interesting career so far; it has varied from Implementation and training through to quality management and Operations. I'd been on my department's internal talent management scheme for nearly 3 years and the support and opportunities it provided were invaluable however I didn't think I would be able to apply for the fast stream as I have a young child and believed (incorrectly as it turns out!) that Fast Streamers had to be based in London.
When the scheme was advertised on our Intranet I discovered that there are options to help support people like myself who need to stay in their local area. This was a massive relief and once this was confirmed I jumped at the chance to apply, for me the Fast Stream offered a chance to continue my development and widen my horizons in other Government departments. I was impressed that they offered people with experience within the Civil Service a chance to get onto a competitive graduate scheme without a degree and that there were options for people with caring responsibilities to allow them to apply.
The application process is quite long and I would recommend starting it earlier in the application window if you can (this give you more time to complete each step without the pressures of the deadline looming). I submitted my initial application in November 2016 and am starting my first placement in October 2017 so it can be a long process but it's worth it. I found the application and assessment process quite daunting initially but there was support available online and from colleagues at work. I was also working with an existing fast streamer at the time who provided invaluable moral support as well….
Stage 1 – The online tests. This was completed at home in November/December and I think the most nerve wracking bit is that you have to complete each stage of the application successfully before being able to move onto the next stage; it was a little nail biting waiting for the email coming through confirming progress to the next test! There are three tests; the online exercises, an e-tray exercise and a video interview. There were all really clearly explained and there were practice examples to work through beforehand which Id recommend completing. If I had to give one piece of advice it would be to ensure you plenty of time for the video interview as that took me a little time to set up.
Stage 2 – The assessment centre. I spent 6 hours in March at the assessment centre in Newcastle completing 3 tests; a leadership exercise, a group exercise and an analysis exercise. Whilst it was a challenging day, a highlight for me was meeting the other people also going through the same process as we were able to give each other some support. The people at the assessment centre itself were welcoming and reassuring, they understood that we were a little overwhelmed and nervous and tried to make the day as easy as possible. There was refreshments available but I definitely recommend bringing snacks with you, as if you're like me your tummy will start rumbling right in the middle of one of the tests!
If I'm totally honest I didn't think I'd get through the first tests, let alone to the assessment centre and then onto the scheme itself and yet here I am…my induction event is in early October and then I start my first placement with the Ministry of Justice. I'm really pleased that I read that article on the intranet and that I took the plunge back in November to submit an application. It is absolutely worth the journey.