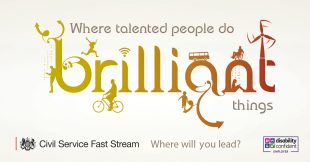 I first heard about the Fast Stream at a careers fair in London during my final year at university, some six years ago, when I met one of the current Fast Streamers visiting to promote the scheme. I remember she spoke well about the benefits, but at the time I just didn't have the confidence to believe I might be successful amongst the thousands of other applicants. It feels surreal (and excellent), to now find myself telling you about my experience, and my message is that it really could be you typing this blog next year.
I joined the Civil Service in 2013 as a temporary Admin Officer at Nottingham Magistrates Court, and was lucky enough to be kept on permanently. After a couple of years, I moved to HM Land Registry as a technical caseworker, and more recently to HM Revenue & Customs where I was working on the Stamp Duty Land Tax Higher Rate team as a Higher Caseworker.
Each of my jobs had helped to convince me that a career in the Civil Service was what I really wanted for the future, and given me the extra skills and experience I needed to make it a real possibility. The Fast Stream felt like the way for me as nothing else can provide such a variety of experiences in exciting, high-profile postings, over such a short space of time. Whether you want to work in the devolved administration in Scotland, in the heart of Whitehall, or anywhere in between, really anything can happen.
I began the application process in September 2016. The online tests were challenging as you would expect but, as such tests are increasingly used in internal applications, many of you will have come across something similar already, as I had. The thing which really set the Fast Stream process apart for me was the video interview stage. Imagine watching a recorded video question, knowing that in 15 seconds your laptop/tablet will start filming whatever response you can come up with, with no second tries, and you'll have an idea how pressurised this can be!
To my huge surprise, my video interview had not resulted in my instant elimination from the process. In fact, I was invited to attend the new Fast Stream assessment centre Tyne View Park in Newcastle. What I found most remarkable about the centre itself is that it is totally empty of furniture beyond the minimalist workstations. After the initial surprise had passed it felt quite peaceful though and, in my opinion, is a real aid to concentration. On an interpersonal level I was expecting interactions to be quite corporate. However, I was relieved to find the other candidates were on the whole very likeable and down to earth, which set me at ease for the day's tasks.
Although I personally applied with a degree, I have been surprised at the number of my colleagues who weren't aware that a degree is not a requirement for existing Civil Servants. I think Greg Hobbs (Head of Fast Stream and Early Talent) really captured the issue at this year's induction when he said that the Fast Stream should be viewed as a leadership training programme, rather than only a scheme for graduates. I know that many people work hard to promote the Fast Stream within the Civil Service, and this is certainly paying off; at the induction event this week I've had the pleasure of meeting many other existing Civil Servants who have now been appointed as Fast Streamers.
Even in my relatively short time in the Civil Service I have met so many talented people who would make great candidates for the Fast Stream, so whether you haven't ever considered applying, or thought it might not be for you, I'd really urge you to take a closer look.