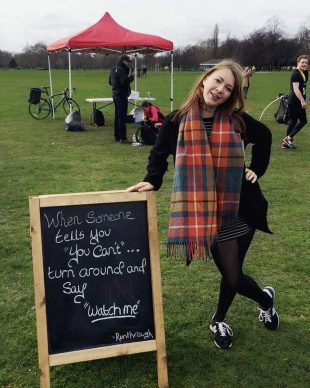 After spending five years in my university town, in 2016 I realised it was probably time to get one of those 'real jobs'. I had studied History and Politics at University of York for three years, then did an MA in English Literature… and when I still wasn't done with university life, I took on an internship with my student union.
The one thing I knew for sure at the end of those five years was that I needed to do something I would feel good about. I couldn't see myself in a bank or any of your other typical grad-job roles. I wanted to do something that would have a real effect on the lives of people around me. Inevitably then, the Fast Stream stood out in this sea of grad jobs as the one I wanted the most. It promised fast paced, challenging and exciting work, and was giving back to the public. This was it; this was what I had been looking for! And so the application began.
Overall, I would say I was a pretty typical candidate for a very competitive job. I had been to university, I had some experience of work, and I was enthusiastic and passionate about the opportunity. But weren't all the candidates? I didn't feel special. People were throwing stats at me like 'did you know only 2% of people who apply get a position on the fast stream?' which didn't exactly boost my confidence, but I continued with my application none-the-less. When I got through to the Assessment Centre (after completing the e-tray on my BIRTHDAY) I was over the moon, and couldn't quite believe it. I realised then that I had just as much chance as anyone else, and so do you!
I won't lie to you; the Assessment Centre will go down as one of my least favourite days in recent years. No matter how many people tell you to relax and enjoy it, that's a pretty tough ask when you're surrounded by extraordinary talent in a small room, and about to be thrown into an all-day extravaganza of proving yourself.
However, the one piece of advice that I think saw me through that day was the most cliché of all: be yourself. I truly believe my genuineness and honesty was what made me stand out. For example, my ability to reflect on what I hadn't done well in each exercise was just as important as doing well in others. So, don't worry if you think you've messed up… reflect on how you could do better next time (you'll do this in your job sometimes too). My other important advice is to make friends with someone in the room and get a big glass of wine afterwards, because you definitely deserve it.
So far, my time on the programme itself has been mixed. You occasionally hear stories of fast stream roles that don't meet the expectations that have been built up. They are those roles that are not so fast paced, and don't automatically stretch you enough. I think it is fair to say that I had one of those roles… but here is my next incredibly clichéd piece of advice: you get out of everything what you put in.
The work I was given in my first role wasn't enough for me. The solution? I found more. I sought out people who might need me and areas in the team where I thought I could add value. I made sure those six months developed me in some way: identifying work was a challenge in itself and I learnt a lot about how to manage my own time, ways to continually motivate myself and stay positive, and how to identify exciting opportunities.
In contrast, my current role is brilliant and I am constantly busy. It's a fast past policy role, and my learning curve has been steep. I have led on so many exciting areas and can genuinely say I feel I have made a difference to the future of this country (even if it's only a small one). With my next posting around the corner, I can only expect more excitement to come.
In summary, if you're thinking about applying, do it. If you think you're not good enough, you are. It will be a decision you won't regret.