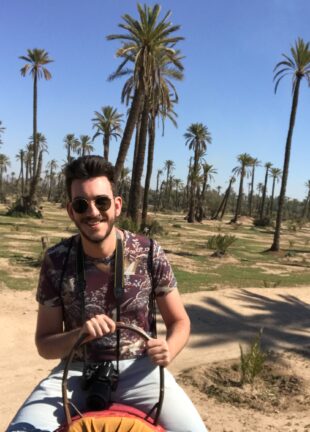 I'm Adam and I'm a 2nd year Digital, Data & Technology Fast Streamer, currently working at the Ministry of Defence as a Digital Delivery Manager.
During my first year on the scheme, I worked at DWP in their Cyber Resilience Centre, and then moved over to the Department for Transport working as a User Insight Lead.
My main role as a User Insight Lead was conducting user research (research into what users of a product or software want from it) into a variety of different projects – including Senior Board Executive Papers, HR chatbots and communication and collaboration tools for staff.
As interesting as this was, I was also involved in an all-together even more interesting project – helping to get an Innovation Lab set up in the department. 'Innovation' is a word that puts a lot of people off; sure it sounds great, but most people think that they can't be innovative, that that's something for David Bowie or Steve Jobs. Sure, being innovative is not exactly a piece of cake, but absolutely anyone has the capability to do so. It just starts with one question……'what are your pain points?'.
If you can work out what your pain points are, you can then start talking about what you'd want to be able to do in an ideal world. Take those two answers, come visit an Innovation Lab where they can tinker with future technologies, and hey, you've just pushed forward innovation in your work!
Future technologies, I hear you say? Yep – anything from Virtual Reality and Augmented Reality, to Machine Learning, Automation and Artificial Intelligence. Beat that, Elon Musk!
So it was my job to get this kick-started, and what happened next was a whirlwind of tours and meetings with Innovation teams at several companies, including Google, o2 and GCHQ, as well as departments like HMRC, BEIS and DVLA. I can't say much about these trips, apart from to say….they were awesome! I played with a lot of cool tech and saw some great ideas to take back to our lab.
As part of the job I also went to a couple of Tech Expos, which for me was like the Super Bowl of tech. It hasn't been all glamorous, but it has been incredibly interesting, and my work and network building will allow our Innovation Lab to be an amazing success in the future.
So that's me – I'm sure I've got a lot more interesting stories yet to be experienced, but so far I've been very lucky. And that's just the first year!