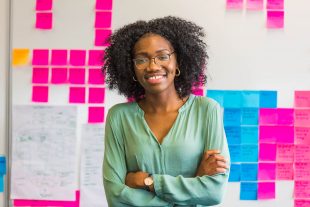 Change is an incredibly common word. As a verb and noun, its definitions range from something/someone becoming different to taking or using one thing instead of another. It is the former definition, which describes the process by which something becomes different that I'll be talking about in light of my experiences on the Digital, Data and Technology Fast Stream thus far.
Before joining the Fast Stream, I had mixed emotions. I was excited to begin working in the public sector and to join a development programme that was uniquely centred around building and maintaining services for people. I was also aware that I would be having to deal with a great degree of change – changing departments, roles and responsibilities, managers and teams, and wider departmental culture. All of which presented a certain degree of challenge.
There are many steps that I could have taken to deal with this, but one of the things that has helped me the most thus far is having a strong support network: people that know and understand you, and are actively invested in your development. Realistically you build this over time as you continue to meet new people – since completing my GCSE's I am thankful to say that more people have joined this network at each 'major' stage of my academic life and career. I think of my first ever mentor, who started mentoring me when I was 16, and a Director at MoJ (the department of my second fast stream posting) who has recently taken me under her wing and offered both professional and personal guidance.
I've been working to ensure this network is a mixture of individuals that are similar to myself and some that aren't. For example, I am a black female from a low socio-economic background, and these are traditionally underrepresented groups in certain parts of the civil service, be that departmental, functional (e.g. technology, finance) or at certain levels of seniority. However the Civil Service is actively working towards getting better representation from these groups amongst others. I've been able to speak at panel discussions about my experience in the civil service and will be speaking at a cross-sector event about diversity in IT. I'll also be working with the Fast Stream to increase applications from diverse groups in my second year.
Some of my support network identify with some of my areas of diversity, some identify with none, but the importance is connecting with people from different backgrounds and as a result, getting advice from varying perspectives. There is a lot of value in having a multitude of counsellors so you can respond to change effectively and in a way that supports others - and I'm thankful that I've increasingly had this along the journey. And in turn, I've been able to be part of other's support networks too.