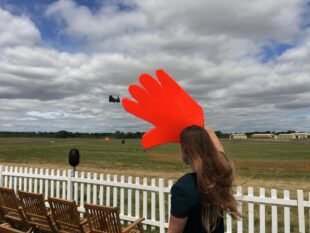 I joined the Fast Stream straight out of The University of Edinburgh, where I studied Politics. My experiences of the scheme so far have been challenging yet rewarding. It has stretched me and allowed me to experience an area of the Civil Service that I had not previously envisioned myself being a part of, yet one that I have enjoyed immensely. If you had told me what I would be doing day to day this time last year I probably wouldn't have believed you!
My first posting as part of the Project Delivery Fast Stream was at the MOD at RAF Air Command in High Wycombe. I was apprehensive at first of working somewhere that is basically in the middle of nowhere when my first choice of location was London. However, I had a great time working at Air Command and it was definitely a unique experience I would not have gotten in Whitehall. Working with an office of military personnel, and having a RAF officer as my manager has certainly been challenging at times, but has allowed me to challenge my perceptions and experience different viewpoints.
I worked as the Assistant Programme Manager on an almost £3Bn programme to upgrade one of the RAF's aircraft capabilities. This involved a wide range of responsibilities and engagement with a variety of stakeholders from foreign military through to the operational users of the aircraft. It has been interesting to work on such a large programme (both in cost and time) and to be able to take on such a meaningful role so quickly.
From capturing the benefits and risks through to working with external contractors to assess the options and ensure the taxpayer gets the best value for money - no two days have been the same. This variety is what I have enjoyed the most about working in Programme Management.
I have had opportunities on the scheme so far that I'm sure I would not have experienced
outside the Civil Service. Some of the highlights include shooting guns, building IED's, flying on an Australian aircraft and travelling to Washington DC to attend a conference – things I wouldn't say are standard office activities! The picture I've included is from the Royal International Air Tattoo where I was involved in the Chinook helicopter display – waving at the pilot with a giant orange hand!
I've also had the chance to get involved with some great opportunities outside of work. As part of our first year objectives I completed a triathlon and did some volunteering in a food bank in London, something I found incredibly rewarding. As part of the Civil Service we are allowed to take leave for volunteering, and I probably wouldn't have pursued volunteering without that.
I'm just about to start my next placement which is a secondment to NHS Digital in Leeds. I'm sure this is going to be a completely different environment to the MOD and I'm really excited to experience some new ways of working and throw myself into something new.