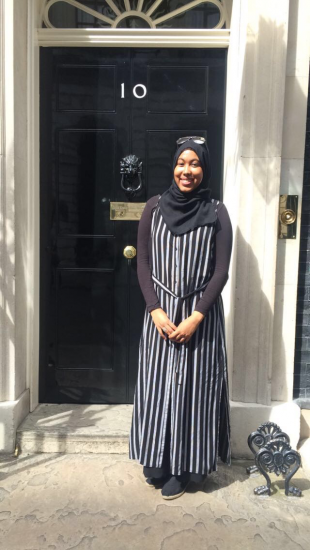 What drew you to the Civil Service Summer Diversity Internship Programme?
I first heard about the SDIP upon completion of EDIP in my first year, which I spent in the Ministry of Justice (MoJ) in the Legal Aid Agency. This experience exposed me to the breath of government strands covered by the Civil Service and the diversity of people working together to run the country. I further experienced this during SDIP in the summer of 2016 where I worked in Civil Service Resourcing (CSR) for 9 weeks.
How would you describe the diversity culture in the Civil Service?
I was given responsibility from day one, attended departmental meetings and took the lead in writing a Marketing strategy for the team's new year. I worked closely with my line manager to organise training sessions for Fast Streamers to take part in University marketing of the Fast Stream and I spoke about my experience of the programme at these sessions. I worked closely with a diverse range of Civil Servants on my team, all of whom made me feel welcome and included throughout my experience.
How did your employer help you do well in the workplace?
I was given a mentor on the Diplomatic Stream who gave me a tour of the FCO and an insight into the FSAC as well as her experiences on the Fast Stream. As someone who had also done the SDIP, I was able to relate to my mentor and apply her advice throughout the programme.
What were your highlights on the SDIP?
During my 9 weeks at CSR, I attended off-site events including a crisis management workshop with the Ministry of Justice, an interviews day for state school students as well as a tour of Downing Street and the Houses of Parliament! We even took part in a charitable competition, which allowed us to work in large groups with other interns in different departments. This gave me an excellent opportunity to network with others and make the most of my time on the programme.
Have you used the Fast Pass? If so, how did you obtain the Fast Pass?
I was extremely happy to learn that I achieved all my objectives and was eligible for the Fast Pass, a coveted reward that fast tracks you to the Fast Stream Assessment Centre (FSAC) stage of the graduate schemes' application process. I have decided to apply this year to the Fast Stream using my Fast Pass and I am now waiting to attend FSAC in 2017. In order to gain the Fast Pass, I worked closely with my manager to ensure my objectives were challenging yet achievable and I had weekly one-to-one meetings to make sure I was on track to successfully completing them. The most useful tool for identifying what was expected of me was the Civil Service Competency Framework, which I also used in the application process for SDIP.
What advice or top tips would you offer to diverse applicants?
I would definitely recommend the SDIP, as you do not need lengthy work experience to be successful in the application, you just need to highlight your strengths from any experience you have had. The culture and the development strategy provided on the SDIP are an excellent introduction to working life and a great way to experience life on the Fast Stream." – Hayat Mohamed, SDIP Ambassador
The application windows for the EDIP and SDIP are now open! Please click here for more information
Sign up now for email alerts from the Civil Service Fast Stream blog