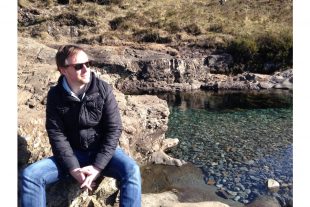 I'm not what you'd call a typical Fast Streamer.
For a start I'm a bit older than average, though kinder people say I don't look my age. I've worked for many years in the private sector, primarily in publishing, tourism, and the creative arts. And I've spent much of my life wondering what it is the public sector actually does. Sometimes I still wonder.
And yet, here I am.
To begin at the beginning
I've always had a deep interest in politics and government. It's no coincidence that my Bachelor's degree at Trinity College Dublin was in political science and economics. When I graduated in the late '90s, working in government was one of the careers I strongly considered.
But then life got in the way. I moved to Italy, fell in love with the Italian lifestyle - and an Italian woman - and happily became a professional tour guide and part-time actor and playwright. To put it simply, I told stories for a living. They were fascinating stories about ancient emperors and Renaissance popes, about power and glory, strife and upheaval. I was talking about politics in the past tense.
As the years went by though, I couldn't shake this nagging sensation - What about now? What about the future? And so finally, after much consideration, I decided to leave Rome and move to Scotland to pursue an MSc in Carbon Management at the University of Edinburgh. In the space of a month, my focus had shifted from 2,000-year-old Roman history to climate change solutions for the 21st century. I'd seemingly moved from the past to the future, bypassing the present. I was re-energised. My passion for politics was reignited. What would I do next?
The making of a Fast Streamer
Like most people applying for the Fast Stream, I was also exploring other options during the application period. This was pretty sensible given the length of the application process and the lack of any guarantee that I was going to be successful.
But I stuck at it, kept my options open, and as I passed each successive application phase, the possibility of a Fast Stream career became much more concrete. Eventually, I was offered a place on the Digital and Technology (DaT) scheme, one of the most forward-looking and innovative in the whole of government. As you'll probably have guessed by now, I accepted it.
Thoughts so far
On the DaT scheme, we're expected to do 6 postings in 4 years. I started my first posting in this Ministry of Justice (MoJ) this September. MoJ was not my first choice. The Department of Energy and Climate Change (DECC) was my first choice. DECC doesn't actually exist anymore. Such is the way of government.
I couldn't be happier than where I am at the moment. I hadn't realised what a great digital team MoJ had until joining as a delivery manager charged with rolling out a new continuous form of assessment for MoJ digital services. The new assessment model promises to reduce the need for expensive and time-consuming exam-style assessments and deliver real value to taxpayers in terms of better services and reduced costs. MoJ Digital is at the forefront of a cross government drive is this regard and closely collaborating with other government departments.
While working at MoJ Digital, I've also taken on the exciting role of Content Designer on the Prison Visits Booking service of the National Offender Management Service. This possibility was facilitated by my activity manager, who's been really helpful in setting me up with opportunities to take on responsibility and develop my career.
So far my time on the Fast Stream has been challenging and rewarding. And, while I sometimes still wonder what's going on, I'd like to think that I now understand a bit more than before. At any rate, people keep giving me things to do, so I suppose I must be doing something right.
The application windows for the EDIP and SDIP are now open! Please click here for more information
Sign up now for email alerts from the Civil Service Fast Stream blog