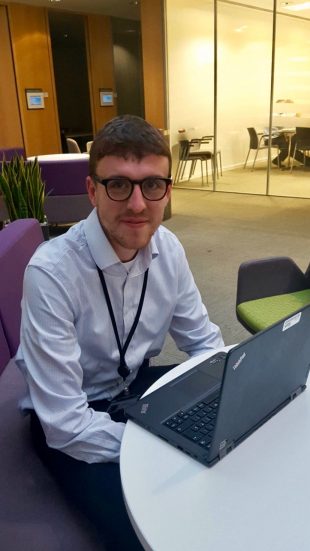 Like most new fast streamers, I expected posting no.1 to be in a government department located within walking distance of Big Ben. I was therefore surprised to discover that I'd be spending a year in the leafy suburbs of Bristol at an executive agency of the Ministry of Defence (MoD) named Defence Equipment and Support (DE&S). Looking back, though, being outside of the Whitehall bubble gave me a truly unique perspective on government procurement.
With an annual spend of £16 billion (greater than any other organisation in the UK) and a headcount of over 10,000, Defence Equipment and Support (DE&S) boasts an impressive portfolio of commercial activity. Resembling a building structure similar to the Pentagon, this area of the MoD is responsible for delivering a wide range of projects from armoured personnel vehicles to submarines and everything in between.
During my placement at DE&S I worked on defining the requirement for updating the Army's virtualised training capability. Think laser quest in a huge outdoor arena with different types of weapons, simulated tanks and a communications network that allows users to tactically plan during an exercise. Whilst this system is an impressive replication of battlefield frictions, it desperately needs a technology refresh. 
From a commercial perspective I got involved with three main areas. 1) Developing a number of scoping reports that considered the appropriate remit for the project. This often involved pushing back against a difficult stakeholder to ensure we had a generic requirement going out to tender. 2) Conducting a pre-tender engagement process with industry. Here I selected and then engaged with stakeholders from a range of defence companies. The purpose was to gauge their desire to bid for the programme and confirm that our thinking was aligned to innovative new products in the simulation market. 3) Carrying out an investigation into the ownership of intellectual property to determine the barriers to fair and open competition for the requirement. This also provided the organisation with a clear understanding of the systems architecture that constituted the virtual training capability.  All of this ensured my team knew what it needed to contract for to deliver the Army's training requirement with a value for money outcome.
Along the way I crashed a simulated helicopter full of Fast Streamers into the Atlantic and probed executives from a multinational defence company on their business conduct with the organisation. I left with a solid understanding of the pre-tender process and now look forward to experiencing the opposite side of the commercial cycle with a placement in contract management.
The application windows for the EDIP and SDIP are now open! Please click here for more information
Sign up now for email alerts from the Civil Service Fast Stream blog