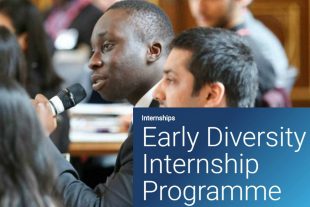 Launched last year, and overseen by the Fast Stream team, the Early Diversity Internship Programme (EDIP) is a one week spring placement programme for first year undergraduate students from diverse backgrounds. It forms a key plank of the Fast Stream diversity strategy for early talent, aligning with the recent Bridge Group report regarding  enhancing social mobility in the Fast Stream.
Participants for 2016 comprised approximately 100 Black Asian and Minority Ethnic (BAME) and lower socio-economic students – 25% up on last year. They were immersed in the world of the Civil Service and the Fast Stream via shadowing opportunities, network sessions, visits and skills workshops. The aim is that the students will learn, in a short space of time, why the Civil Service provides a fantastic graduate career route. EDIP is, indeed, a great launch pad for applying for the award winning Summer Diversity Internship Programme and Fast Stream itself.
Part of the experience has included inspirational speakers, such as: Permanent Secretaries Sue Owen, Richard Heaton and Sir Simon McDonald; Chief People Officer Rupert McNeil;   author and  inspirational speaker Azi Ahmed; world champion rower Cath Bishop; and former basketball star and motivational speaker John Amaechi OBE.
Judging by the feedback we've received this year there is no doubt the scheme was a real hit - 100% of participants would recommend EDIP, and over half the 2016 cohort volunteered to be campus ambassadors for the Civil Service.  The energy generated at the programme receptions, workshops and events showed there was a real enthusiasm for working with us and a conviction that the Civil Service and Fast Stream is a genuine career route.
Testimonials from the interns were glowing:  "Thank you again for the EDIP and the wonderful opportunity it gave me to experience the work of the Civil Service. I was truly humbled. I sincerely learned a great deal and I am now fully convinced that the Civil Service Fast Stream is the scheme for me." "Thank you very much for organising the week, I really got so much out of it and definitely intend to apply to the Summer Diversity Internship Programme."
The application windows for the EDIP and SDIP are now open! Please click here for more information
Sign up now for email alerts from the Civil Service Fast Stream blog