Gregg Harfleet tells about his reasons for joining the Fast Stream and why he chose the Project Delivery Fast Stream Programme.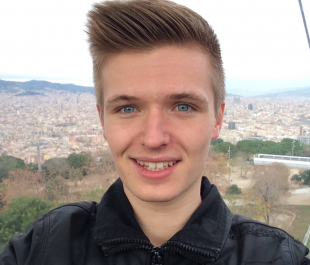 I'm joining the Civil Service Fast Stream straight from the University of Exeter, where I've just spent three years studying for my Bachelor of Arts with Honours in Human Geography. This was a degree path I chose because, throughout my academic studies, I have developed a keen interest in understanding and examining human societies, studying how our social and cultural environments have developed and how they come to be regulated and maintained. As a result, working in government has always made sense to me because it seemed like the perfect place to be able to positively influence people and places across the United Kingdom - a platform from which I could help deliver change and make a real difference.
 I like to think I'm working at my best - and definitely my happiest - when I'm delivering a project brief through to fruition. I enjoy nurturing even the smallest idea until it develops into something that can bring about tangible results. As a result, the Project Delivery Fast Stream seemed like a natural fit for me, as a programme which takes you straight to the heart of some of the country's biggest transformative and infrastructural projects. In addition, my experience in delivering and managing projects so far has mainly taken place in an academic setting, either with colleagues or independently in writing my dissertation research project. As a result, the opportunity to develop my project management skills with a whole host of professional qualifications and project methodologies was definitely an attractive and invaluable opportunity to me.
For my first posting, I'm incredibly fortunate to be working with the Ministry of Defence in Andover, where I hope to have the opportunity to get involved with some of the country's most pressing security projects on a scale unparalleled in the private sector. I mean, where else in the country can you be responsible for helping to manage risk on national defence projects? The Project Delivery Welcome Day provided a fantastic opportunity to meet some of the other young innovators who will be joining me on this placement and I'm really excited to get started in the autumn! I think Project Delivery Fast Streamers share a unique excitement to deliver change, revelling in the opportunity to be creative, generating ideas and solutions to help further objectives and meet project timeline goals.
As a Project Delivery Fast Streamer, I'm confident no two days will be the same, something which definitely attracted me to the scheme. I truly believe project delivery is a unique profession because the legacy you leave on a project isn't limited to one particular role or specialist task. As a Project Delivery Fast Streamer, I'm looking forward to gaining experience working throughout a project's lifecycle, from the conceptualisation of ideas to project completion, developing a sound understanding of the bigger picture along the way.
The application windows for the EDIP and SDIP are now open! Please click here for more information
Sign up now for email alerts from the Civil Service Fast Stream blog