Marina, 1st year Project Delivery Fast Streamer tells about her experience of choosing and joining the Fast Stream.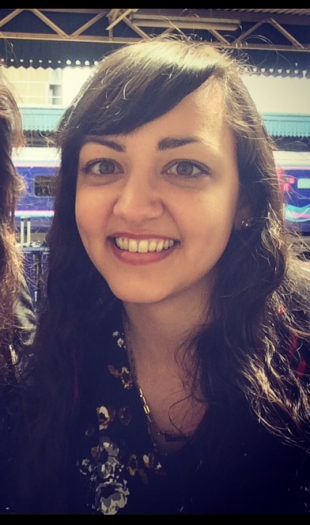 After finishing university, I applied for a position on the Summer Diversity Internship Programme. I was very fortunate to be placed in a fast-paced team at the heart of Government, in the Cabinet Office's Constitution Group. The manager of my team, David Willis, was an alumnus of the Fast Stream, and he told me how the programme had really stretched his skills and well prepared for him for a position in the Senior Civil Service.
 I loved the idea of working in such a senior position, being called to 10 Downing Street to support in a crisis or popping over to the Houses of Parliament to advise a minister. And so I applied to the Fast Stream. I didn't know much about Project Delivery, but I decided to add it onto my options because I liked the sound of it. I went through all the online tests, completed my application form, and received an invite to complete the e-tray. I was delighted to discover that I had been successful and was invited to attend the Fast Stream Assessment Centre (FSAC) in London.
The night before my FSAC, I met up with my friend Annie, and explained the various schemes that I had applied for. I told her that I wasn't sure which one I preferred, and asked her advice. She said it seemed blindingly obvious which one I should pick as my first choice – the Project Delivery stream. She said that someone as organised as me, with good people skills and a willingness to get things right first time would be invaluable working on projects. I took this away with me, and although I was successful in all of my applications, I realised that Annie was absolutely right – Project Delivery is the right fit for my skills.
I spoke to Michelle Palin (Project Lead for the Fast Stream) and she told me all about the Project Delivery Fast Stream, which is a new scheme for 2016. I was particularly pleased to hear that I would spend 12 months in my first department, which I felt was a good amount of time to find my feet. She also told me about the various learning and development opportunities, such as PRINCE2 or Agile, depending on which team you join. The thing that really sold it me was the chance to work on a project from the Government Major Projects Portfolio – these are huge, innovative projects with a value of £500 billion.
My first placement is at the Office for National Statistics in Newport. I'm working on the Data Collection Transformation Programme, which will fundamentally change the way ONS collects data. I have the task of making sure that we have an accurate picture of our benefits, by consulting with senior stakeholders and ultimately reporting my findings to the Treasury. I'm also helping to create an operating model, which means showing what we currently do and how we could operate in the future. All of this at the same time as monitoring our spending and making sure we spend the £6.1 million budget we've been given. I was given a lot of responsibility early on, which has been great for my development.
What I really like about Project Delivery is the chance to do something that makes a difference. Working on projects means that the work you do will help towards improving things for the better. I also enjoy working with people across a range of disciplines, from Digital and IT to HR and Policy. The work affects everyone across the organisation, and being able to work with people at all levels is really important. You should also be able to take complex processes and policies and make them easy for everyone to understand. I've loved my experience so far and I'd wholeheartedly recommend it to anyone considering applying. 
The application windows for the EDIP and SDIP are now open! Please click here for more information
Sign up now for email alerts from the Civil Service Fast Stream blog