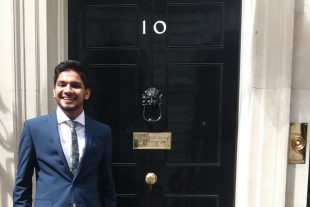 A visit to Downing Street awaits but I have to wait until the end of the week. Before then, my team has to deliver some training sessions to fast streamers on how to raise awareness of the Fast Stream among students from low socio-economic backgrounds. Diversity is integral to the Civil Service and the marketing team put together a range of resources and data as well as organizing a full day training session which involved various activities for fast streamers to get to get to grips with what to expect when they attend on-campus events such as career fairs.
Downing Street was amazing to say the least. I was surprised by how big it is! While it's the Prime Minister's residence, it's more of an office with around 200 people working there. The staff at Downing Street are at the centre of the most important decisions made by the cabinet and hence it brings a lot of privilege to work there. We were given a tour by a fast streamer who was working in the offices there. It was fascinating to find out how a small item in every little corner has some sort of history attached to it and get a taste of the grand design that flies through the building and has been present for over 50 years. And as expected, we had a long photography session outside the the No. 10 door.
As I'm approaching my project deadline in a few days, I had to meet with some senior civil servants who had their final say on the best way forward. I also had some meetings on our charity projects and we're selling donuts on our floor next week so the sugar rush awaits.
The application windows for the EDIP and SDIP are now open! Please click here for more information
Sign up now for email alerts from the Civil Service Fast Stream blog