When I was told I was going on secondment to the Association of British Insurers to be a Pensions Policy Adviser I was a bit underwhelmed. Let's be honest, it doesn't sound particularly exciting, especially not when my colleagues were heading off to BAE, the Nudge Unit (Behavioural Insights Team) and WWF (The World Wide Fund for Nature). But after some encouraging words from my Cohort Leader, off I went to the world of insurance.
I'm now halfway through my secondment posting and happy to admit that my first impression couldn't have been more wrong. Whilst the ABI doesn't necessarily have the same brand recognition as BAE or sound as mysterious as the Nudge Unit, it is a dynamic and effective organisation which works across a wide range of interesting policy areas. The ABI works to ensure the industry meets the highest standards and the voice of the UK insurance industry is heard.
Whilst studying for my degree in International History with Politics at the University of Leeds, I never thought I would end up working in pensions, or better still, actually enjoying it. When I left my job at the Department for International Development to join the Fast Stream as a Generalist, it was because I wanted to experience the variety of roles the Civil Service has to offer. How could I possibly know what I wanted to do in government if I didn't know what I could do? As I had always planned on a Civil Service career, I was also interested in the opportunity to leave government on secondment and try something different; although at the time, I never put much thought to where I might go.
For my first Fast Stream post I was based in Falkirk (Scotland) at the Child Maintenance Group (a lesser known delivery arm of the DWP) as Communications Manager. It was a challenging role, but that meant that I learnt quickly and it helped me really get to grips with the challenges (or opportunities as my Area Head would say!) that those in front-line delivery roles face.
For my next post I was relocated to Bristol as a Commercial Officer for Defence Equipment and Support (part of the MOD). At first, I was nervous about a role in procurement as I knew you needed profession specific knowledge to be effective in this area. However, my Manager was supportive and quickly brought me up to speed, and in a short space of time I was placing a contract worth £17 million.
My current role at the ABI puts me at the heart of a policy area undergoing major changes, which will have a massive impact on the future of everyone in the UK. I have been given a high level of responsibility and my colleagues value the insight I can provide into the ways of working in the Civil Service. I must admit, it is fun to be sat across from civil servants from HMT or DWP and think 'I'm on the wrong side of the table!'
Discovering that the Director General of the ABI, Huw Evans, previously worked as a Special Adviser to Tony Blair, seemed like a learning opportunity that was too good to miss. I asked Huw if he would be willing to speak at (fund and host!) an event for the Fast Stream Learning and Development Committee, and, although my Manager confessed afterwards that he sent me in with a 30% chance of success, Huw agreed. In fact, Huw is an enthusiastic supporter of the Fast Stream who was only too happy to contribute to our development. The event proved overwhelmingly popular with fast streamers, tripling in its original size. At the event Huw shared his top tips for working with SpAds as well as a few stories from his time at the heart of government and I received lots of positive feedback on the high quality of the event.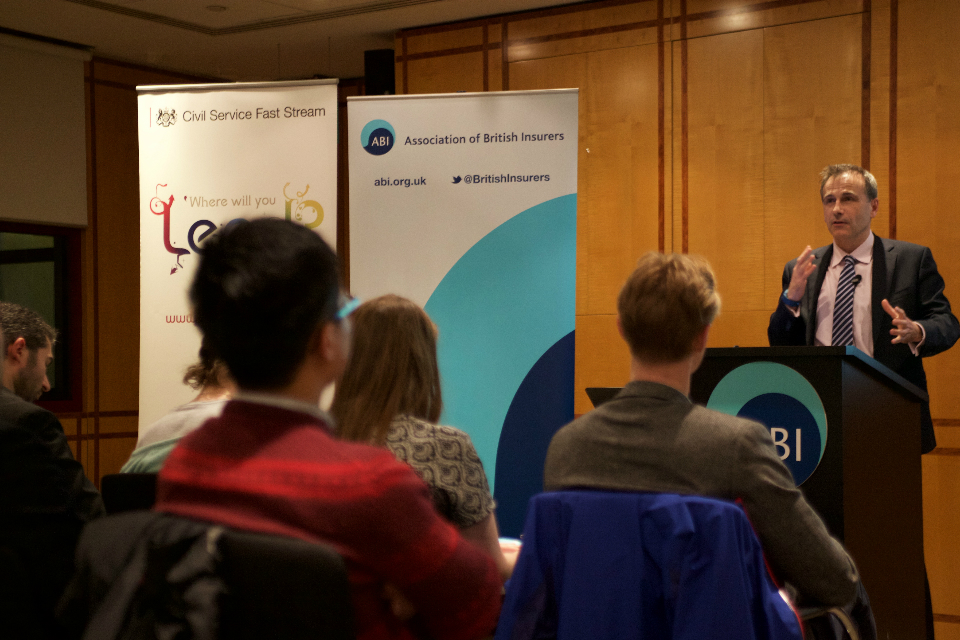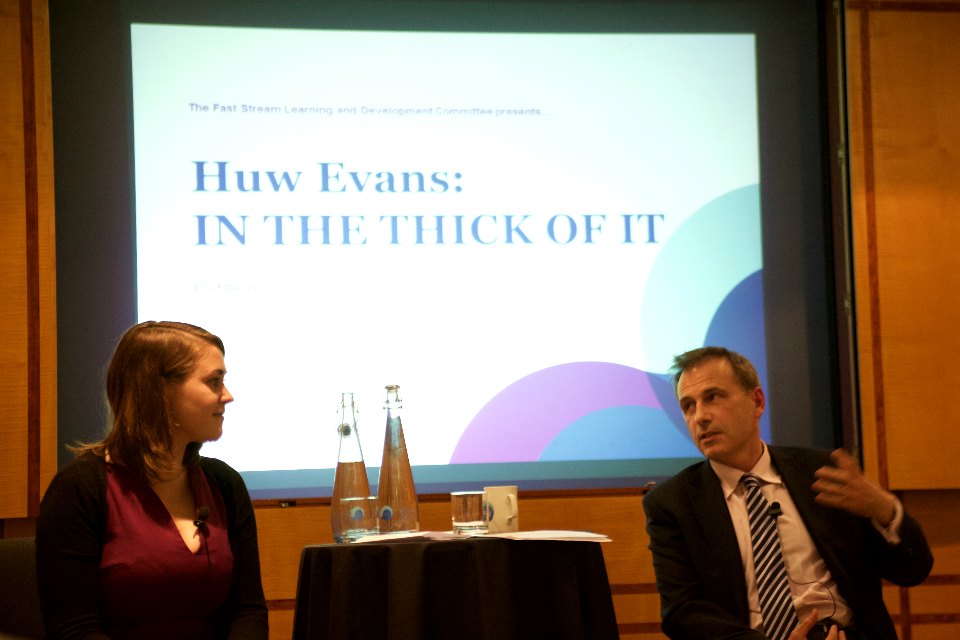 I have really enjoyed my time working at the ABI and feel very fortunate to have been placed at an organisation which not only values my contributions but supports me in achieving my goals.
The application windows for the EDIP and SDIP are now open! Please click here for more information
Sign up now for email alerts from the Civil Service Fast Stream blog