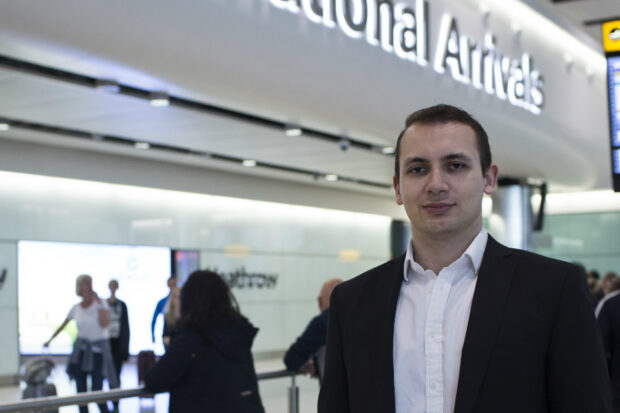 I'm Will, International Aviation Strategist for the Department for Transport. I'm 23 years old and joined the Civil Service on the Generalist Fast Stream straight out of university.
Having expressed an interest in connectivity and transport, I was posted to the Aviation Directorate and have been working here for six months. This has been a fantastic role.
I have been working on important issues I never thought I would be involved with coming direct from university. I engage with foreign governments, international corporations and UK ministers, and respond to international aviation issues as and when they arise. My "downtime" is filled by developing Her Majesty's Government's long-term aviation strategy on issues like competitiveness in the market and European policy. I often travel overseas to negotiate aviation agreements with foreign countries, or to represent the United Kingdom at international summits.
A particular highlight of my role was going to Strasbourg as part of the UK delegation to the European Civil Aviation Conference (ECAC). The two-day summit was held inside the European Parliament and was attended by representatives from all over Europe. I spoke directly to senior officials from different nations to get their take on policy issues and champion UK positions. I was also able to soak up knowledge from a variety of experts from Europe and beyond. It is one thing to learn about international relations in the lecture theatre – it is quite another to see it in action!
Before I joined the Civil Service, I had thought that I would encounter a slow-paced environment, full of individuals stuck in their ways and not interested in moving forward. Working in aviation has certainly proved me wrong. I am surrounded every day by colleagues - often experts in their field - who are driven, goal-orientated and forward-looking.
For me, working in the Civil Service is an opportunity to contribute to society, while building a strong career in areas that are of interest to me. I would highly recommend the Civil Service as a career option, and especially the Fast Stream, as it gives you the opportunity to develop your career across a selection of different and fascinating policy areas. From diplomacy to defence, energy to education, tax to transport, there is something for everyone in government!
I will shortly leave my post to move to the Ministry of Defence Joint Forces Command, where I will be working on the Strategic Defence and Security Review (SDSR). I can't wait to flex my finance muscles in this new role, and am very excited to see what the rest of the scheme will throw at me!
For me, the hardest part of applying to the Fast Stream was walking into the Assessment Centre. It can be quite intimidating to be surrounded by very driven and capable individuals. But it is important to remember that everyone is in the same boat as you and, in the end, people are there to support each other – after all, that is what the Civil Service is all about!
Fast streamers are faced with densely packed 6-month postings for their first 2 years on the programme. Because of this, you are expected to grasp a subject area in a very short time. This is both a challenge and an opportunity, as quick understanding is a key skill that the Fast Stream helps to develop. Ultimately, never be afraid to ask questions. Better to ask and find out, than not ask and not know.
The application windows for the EDIP and SDIP are now open! Please click here for more information
Sign up now for email alerts from the Civil Service Fast Stream blog