What do a group of Civil Service Fast Streamers, a charity for homeless young people and a kangaroo have in common? No, that's not the opening to a joke. In fact, they all formed part of a team that banded together to fundraise for Centrepoint, a fantastic charity supporting homeless young people.
I was one of those contributing as part of 'The Fund', the corporate objective for first year Fast Streamers to work together in teams to give back to wider society by fundraising for a charitable cause. If you're wondering where the Kangaroo came in, that was our Fund team name (don't ask). We banded together as a group of 16 to raise as much money as possible over 6 months.
From the outset we resolved to be bold in our fundraising activities. As well as traditional tube station collections and bake sales we also developed two large scale events. Whilst these required a little extra effort to pull off, they were also a lot of fun.
Our first major activity was a Burn's Night Ceilidh. We managed everything from booking the venue, to organising the catering and, most importantly, selling the tickets. Over 150 people turned up to see the Burn's Night address, sample the traditional haggis and dance to the live Ceilidh band. The night was enormously successful, raising over £3500 towards our fundraising target and providing some wonderfully embarrassing photos.

We also worked with established artist JoJo Oldham to produce a 'homelessness map' of London based on the experiences and aspirations of the young people Centrepoint supports. The result, I hope you'll agree, is pretty impressive.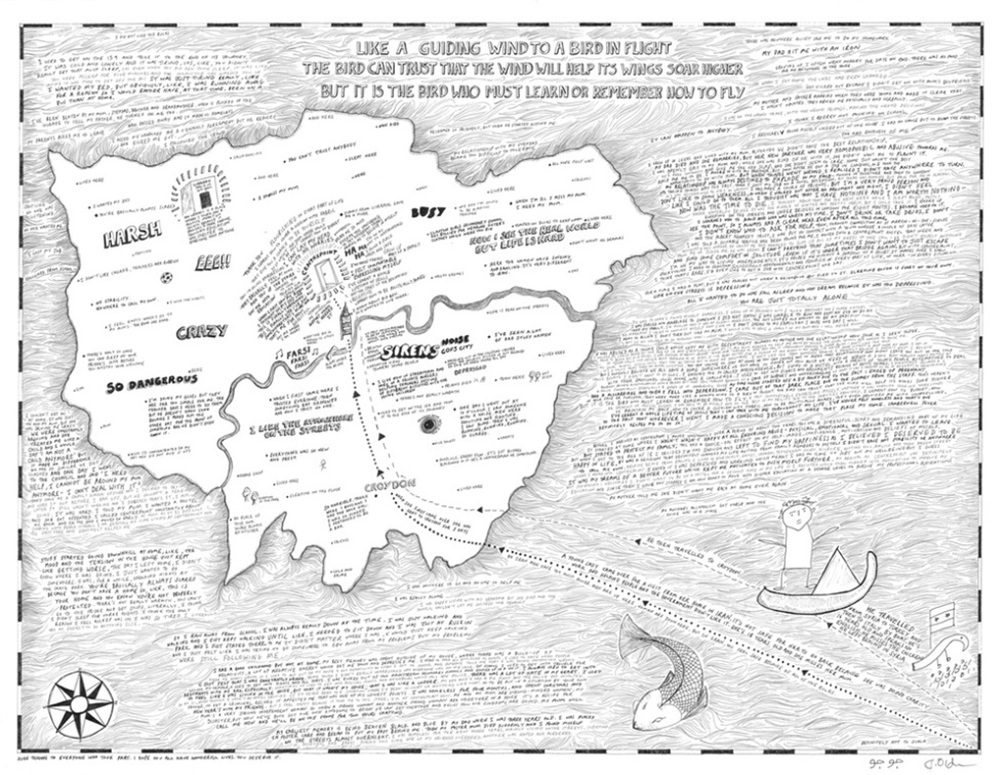 The piece formed part of a larger exhibition organised by Centrepoint and hosted in the prestigious 'Photographers Gallery'. It was an amazing awareness raising exercise and fantastic to see so many of the young people given a platform to showcase their talents.
As ever, there were a few logistical 'hiccups' along the way. I remember carrying several boxes of untouched wine home on the tube because a local Tesco Express didn't participate in the company's sale and return policy. The lesson being, always read the small print…and consider getting a taxi. Fitting our fundraising commitments around our core jobs also proved challenging. Fortunately, our line managers were very supportive, granting us the time we needed to organise events and purchasing more charitable baked goods than is medically advisable.
It's hard to sum up all of the positives I have taken from participating in 'The Fund'. The opportunity to work with fellow Fast Streamers to deliver a project from scratch was very exciting and provided a host of practical experience that will serve us well in our future careers. It was great to work with such a creative group of people and I think our success is testament to the value of effective team work and the benefits of setting ambitious goals. More importantly, witnessing the drive and motivation of the Centrepoint young people in the face of the obstacles they have overcome was truly inspiring.


Fastforward several months, and we received an invite to attend 'The Fund' closing ceremony, where teams were presented with awards for their various successes. It was fantastic to hear about the brilliant work done by fellow Fast Streamers and to find out that the overall fundraising total stands at a whopping £100,833.05! There were also insipiring and highly amusing speeches from Peter Unwin, Chair of the Whitehall and Industry Group, and Dame Julia Cleverdon, Vice President of Business in the Community and Special Adviser to The Prince of Wales on responsible business practices.
We were delighted, and more than a little surprised, to receive the award for 'Creativity and Innovation' as well as the Overall prize for the team raising the most funds. It was great to all get together again and to be recognised for our efforts. However, what remains most important is the positive contribution we have made to the on-going work of Centrepoint.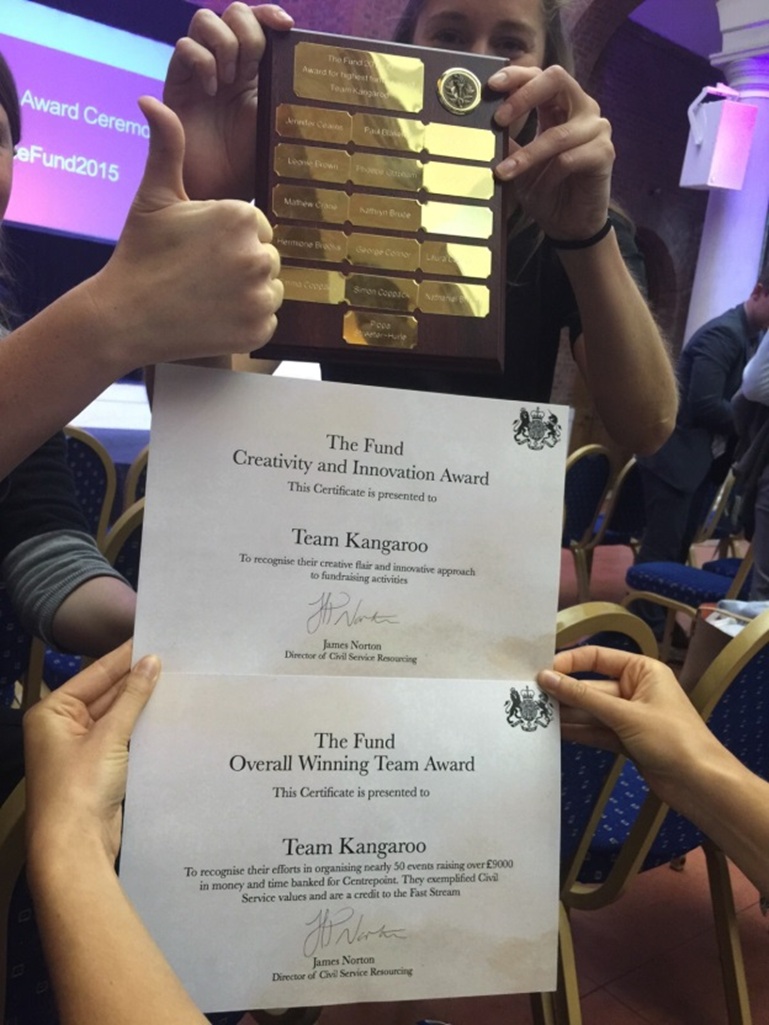 To all incoming Fast Streamers my final take home would be to get involved! These kind of projects only succeed if the whole group is enthusiastic and ambitious. It does require a lot of additional effort and commitment, but the rewards are more than worth it. Good luck and have fun; I know we did!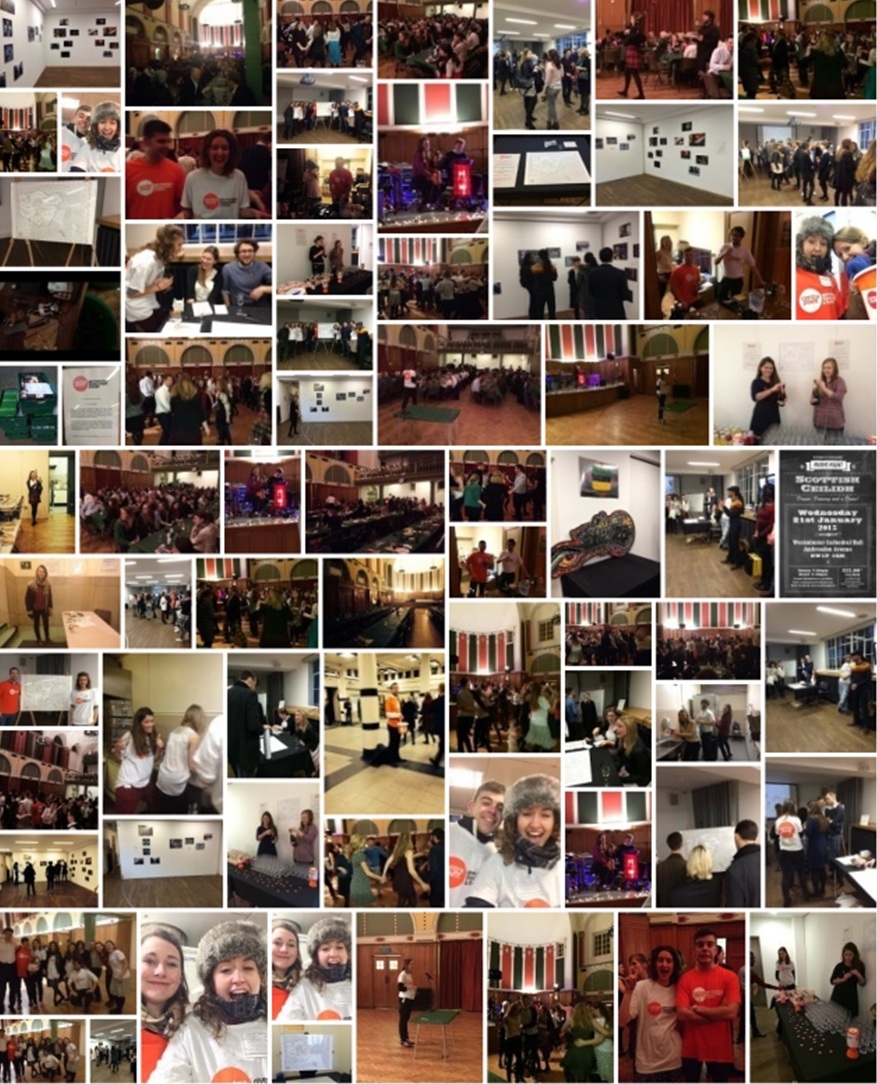 The application windows for the EDIP and SDIP are now open! Please click here for more information
Sign up now for email alerts from the Civil Service Fast Stream blog