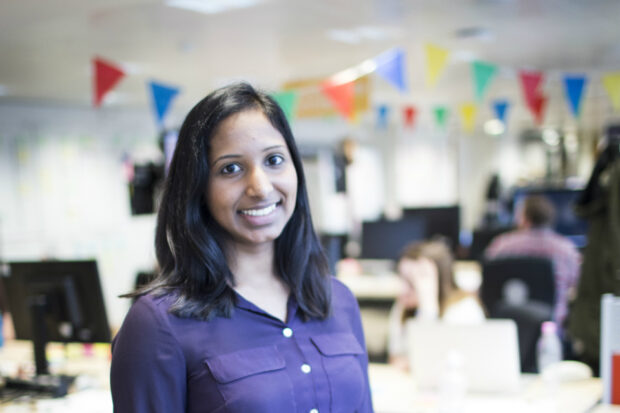 My name's Shamini, I'm 21 years old and I'm an operations intern with the Government Digital Service (GDS), having been part of the Fast Stream Summer Diversity Internship Programme (SDIP) for 9 weeks.
On a typical day, you'll find me fielding emails, attending meetings, going to team "stand-ups", organising events related to the Digital and Technology Fast Stream and impromptu brainstorming.
Without a doubt, the most interesting part of my job is the diversity. I've been lucky enough to get involved with a variety of projects with various teams. So, in the morning I might be working on the design of the GDS wiki (a collaborative tool, how-to guide and source of knowledge and information on all things GDS and the digital transformation of public services), and later on in the day be organising workshops and writing agendas and briefs.
The most challenging thing I've had to do is restructure the GDS wiki, when I had absolutely no digital/technology background beyond GCSE IT. Thankfully, my team was great – they really supported me and even arranged for me to go to a workshop at one of the Google offices!
I applied for the SDIP during my final year at university. The process was pretty straightforward – online tests, an application and a telephone interview. During the whole process, they were very clear about what they expected from me (as outlined in the Civil Service Competency Framework) and gave me every opportunity to demonstrate how I was a good fit for the programme.
I highly recommend the SDIP. You don't need a long list of examples of how you volunteered abroad for three months or were president of a university society. Any experience, big or small, a part-time job or a 3-month internship, will do, just as long as you highlight your best qualities.
I came into the Civil Service expecting a traditional hierarchical system where, as an intern, I'd be required to do photocopying and coffee-runs. But, it turns out I was completely off the mark. From day one, I was attending inter-department meetings and treated like any other member of the team (except with perhaps a bit more support). I also expected the same routine everyday – again, I couldn't have been more wrong.
There are just so many roles in the Civil Service that I never knew existed before joining the SDIP. And the great thing is, there is no set career path. It's not just about climbing up the career ladder. It's up to you to find out what areas interest you and get involved in them. You could have the exact same job role as someone else but be involved in very different projects.
During my 9 weeks at GDS, I've learnt a lot. As clichéd as it sounds, I've learnt a lot about myself – about what tasks I enjoy doing and others I hope to avoid ever doing again; about how I work under pressure; and about the skills I didn't realise I had. This internship has given me the chance to go beyond my comfort zone, while having the safety net of support from all my team members.
After the brilliant experience I've had on the SDIP, once I've decided which scheme is best for me, I shall definitely be applying for the Fast Stream.
The application windows for the EDIP and SDIP are now open! Please click here for more information
Sign up now for email alerts from the Civil Service Fast Stream blog