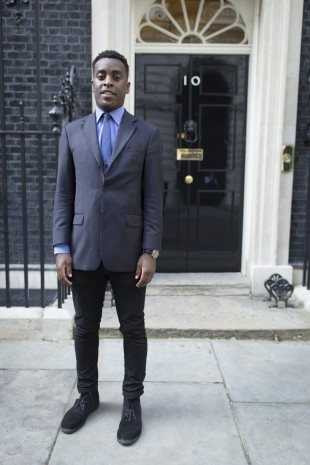 My name is Ntokozo Moyo, and I'm a Summer Diversity Intern working on Policy at the Cabinet Office.
I spend three days a week with the Sector Support Team, which is responsible for supporting the VCSE (voluntary, community and social enterprise) sector. This could range from legislation, opening up public services markets to the sector and/or generally trying to improve the sector's capability in whatever way possible. I also spend two days a week working with the Points of Light (PoL) team. The PoL award is the Prime Minister's award, and looks to highlight outstanding volunteers doing amazing things for their community.
Every day is different, which is great because it keeps your mind fresh and excited. On my first day, I was in a meeting with the Minister for Civil Society and a prominent figure from the National Council for Voluntary Organisations (NCVO). In the afternoon, I was in the House of Lords observing the debate on a Bill that someone in the Sector Support Team is currently steering through Parliament. Every Wednesday afternoon I'm at No.10, pitching potential Points of Light.
I spend a lot of time in the office working and interacting with team members, people across the department, across government and outside the Civil Service.
The best thing about the role has been the variety and the versatility it requires. Everything I work on is different from the last. The most interesting thing for me has to be how the work we do here has significant effects in the real world. I might read something in the paper in the evening and then the next morning my team will be tasked with dealing with it. Sometimes, I'll be working on something that a friend outside of work will mention they have seen or experienced.
The most challenging thing about my work as a whole is balancing the workload of two different teams. It's been very interesting though, because you learn to organise and prioritise tasks.
I got into the Civil Service by applying for the Summer Diversity Internship Programme, which aims to give people who are from a Minority Ethnic background, disabled or lower socioeconomic backgrounds a chance to experience the Civil Service.
I did not expect the Civil Service to be as open and as collaborative as it is. It's been fascinating to see how different teams, groups and departments interact and work together to further their own goals as well as the common goal. Everyone is very open and you can draw on information from everywhere and use it however you see fit, whether that be data, reports or connections.
To me, the Civil Service means working for the greater good of the country. I would recommend it, as there's such a variety of possibilities once you're in. There are so many different projects and roles, which essentially all aim to serve the public as best as possible.
The application windows for the EDIP and SDIP are now open! Please click here for more information
Sign up now for email alerts from the Civil Service Fast Stream blog