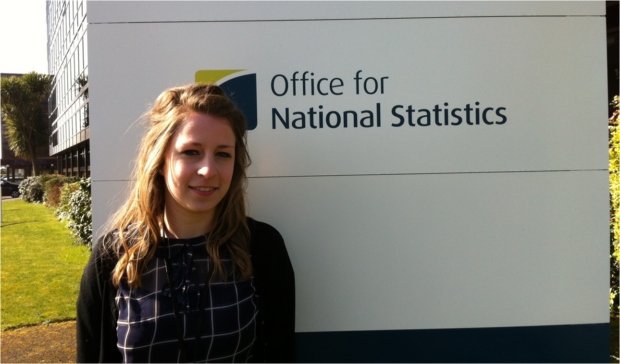 What is your current role and what does it entail?
After graduating with a Mathematics degree last summer, in October I joined the Office for National Statistics (ONS) in Titchfield as an Assistant Statistician. I was overwhelmed by the huge variety of opportunities there are, from working on developing methodology to publishing outputs in areas as diverse as crime and migration. Each day is different and whether it's actually working with data or attending conferences, training courses and meetings in our offices in Newport and London, there is constant opportunity to gain new skills and knowledge.
Why did you apply for this Stream? 
What attracted me to the fast stream was the flexibility to explore your interests and the freedom to be in charge of your career. The continuous focus on personal development really encourages you to invest in yourself and I feel valued in my role.
Statistics fascinate me and I feel passionately about making statistics accessible to all. It is therefore a privilege to work for ONS, the UK's largest independent provider of official statistics. The most exciting thing to me is that the data I am working with underpins the whole of society and is at the heart of government decision making, with a real influence on future policy.
Where do you hope to be at the end of the Fast Stream scheme?
During my time on the fast stream I'm keen to take on as many different opportunities as I can and experience working across the whole breadth of areas within statistics, from research to analysis to outputs. I am also looking forward to experiencing working in different government departments, particularly the chance to get involved more directly with policy work. I feel the fast stream is ideal preparation for the challenges which lie ahead in my career in the civil service and by the end I hope to be ready for my next step up to a senior post.
What is your proudest achievement whilst being a Fast Streamer?
My first post has already exceeded my expectations of the fast stream, having thrown me into a new exciting and fast paced project supported by the national statistician. Working on UK Perspectives, a series of short analytical articles, I've had the opportunity to work with other government departments in a high profile publication which has picked up significant attention from the media. Specifically I have been responsible for producing three of the articles on housing, energy and transport which featured statistics on very topical issues such as house prices and greenhouse gases. It's incredibly rewarding to see your work published online and picked up by newspapers and on the radio. In my role so far I have most enjoyed the challenge of disseminating statistics in an accessible way, raising awareness of official statistics and helping people understand their importance in everyday life. For me my proudest achievement is therefore knowing my work has reached further, impacting the general public and people who wouldn't ordinarily have an involvement with statistics.
The application windows for the EDIP and SDIP are now open! Please click here for more information
Sign up now for email alerts from the Civil Service Fast Stream blog