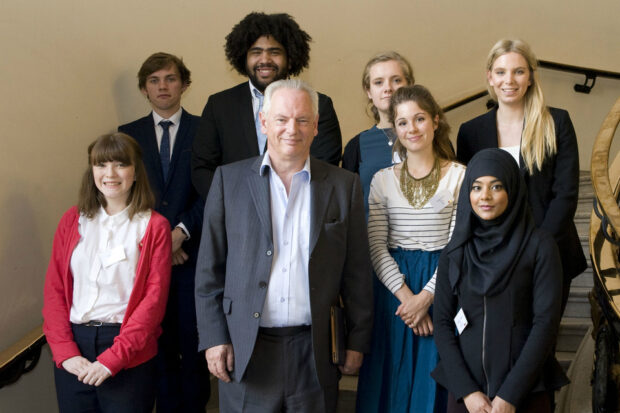 This year, the Civil Service is hiring 750 apprentices as part of the Civil Service Fast Track Apprenticeship (Level 4) and the Operational Delivery Apprenticeship (Level 3). There are lots of exciting opportunities for non-graduates, aged of 16 or over! Lucy (pictured to the right of Minister for the Cabinet Office, Francis Maude) decided against taking up her place at the University of Bristol and started as a Fast Track apprentice in September 2014. She is now working as a Paralegal Officer within the Crown Prosecution Service.

As someone from a small country village in Wiltshire and a tiny school in Gloucestershire, I knew I wanted to go to London. As someone whose father is in the army, I also knew that I wanted to work in the Civil Service. When a friend told me about the Civil Service Fast Track scheme, I knew immediately that I was going to have to do everything I could to get in. This meant rejecting unconditional offers to Bristol, online exams and stressful journeys up to London to complete the process. However, almost five months in, and in the most clichéd terminology out there, I can honestly say it was worth it (and more!) for what I am doing now.
When I got the letter through saying I had been accepted into the Crown Prosecution Service (CPS), my first reaction was 'that's amazing!', and my second was 'what's that?'. Previously, I had only had experience of the core departments of the Civil Service and so the CPS was an utter mystery to me. Not for long.
Within days of starting in September, I had seen all areas of the department, spending days at Court, and the various offices across London. We were spoken to by so many people in different areas of the vast and varied work here, from Lawyers to Case Progression Leaders. Within days I felt so deeply informed into an area of the legal system I hadn't previously known existed (and moved into my own flat in London!). It was jumping in at the deep end of the pool, but that's where it's most exciting.
Since then, the scheme has taught me so much that whittling it down to favourite moments isn't easy. However, one would have to be when I covered a Court room alone. It made me so proud that in only a few months I was in a trusted enough position to be recording the happenings in the Crown Court- whilst not feeling completely lost and confused at the same time! Another would be my first service of papers. I was guided the whole way by such lovely colleagues, but ultimately my name was at the bottom and if anything was wrong with it fingers would be pointed at me: terrifying! Both occasions made me feel so privileged to be in a position that not many school-leavers can be in at the start of their careers,
This experience means everything to me, and I would - and do - recommend it to anyone I come across. What I love about it is that I also feel I could literally recommend anyone to it, as each apprentice I have met is taking something different from the scheme, with different goals in mind. Despite this, I have faith that everyone on this scheme will be able to reach their individual goals, due to the care and attention that is invested into the scheme. Whatever you want from your career, people will help get you there and that is so liberating and exhilarating.
The application windows for the EDIP and SDIP are now open! Please click here for more information
Sign up now for email alerts from the Civil Service Fast Stream blog